Why pasture raised pork?
West View Farm raises heritage breed pigs on wooded pasture. While on pasture, the pigs have access to several acres of land to root up throughout the summer months. By rooting up that land they are an asset to the farm as they plow, aerate, and fertilize the soil to create new pasture to be included into our rotationally grazing program.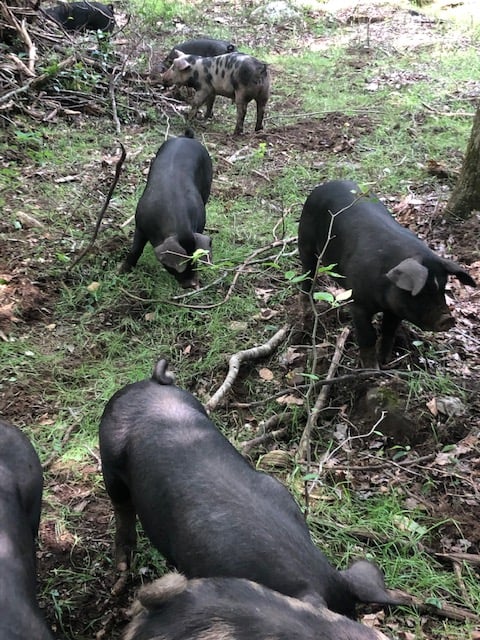 Our Pork
At West View Farm we raise our pigs from day one, our sows farrow in an open barn without the need for farrowing crates. As soon as the sow's mothering instincts allow, her piglets start venturing out into her pasture. Our pasture raised pork is leaner and more marbled  as compared to most commercial pork due to the amount of movement they get while living on wide-open land.  Our pigs graze on acreage they live on in addition to being fed free-choice locally produced grain. Our pigs are processed at a USDA inspected butcher and sealed in cryrovac packaging before being frozen. Bulk orders can be cut to customer preferences which we are happy to walk you through.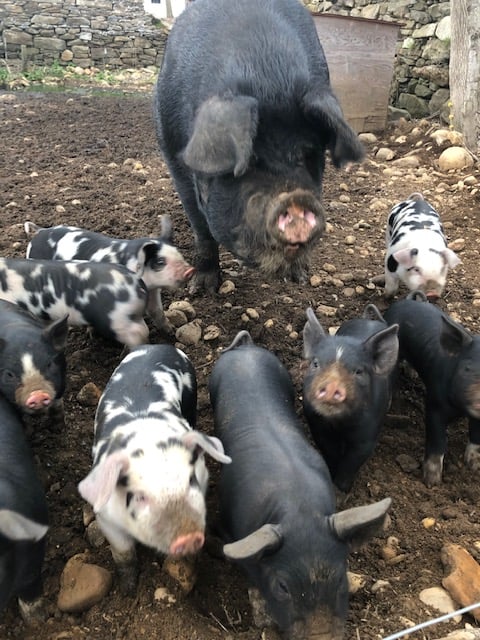 How is our pork sold & how much does it cost?
We offer pork for purchase in both individual retail cuts or by half/whole hog. While our largest availability for bulk orders is available for autumn pick up, we do offer a small number in the spring.  We try to keep retail cuts in stock year round, for current inventory and pricing check out the pork products page. Pricing for the bulk orders is based on hanging weight of the animal which is a percentage of their live weight but not the exact weight that will end up in your freezer. While each pig is different we aim to have an average hanging weight between 200lbs - 250lbs. Our current bulk pricing per half is $4.70/lb hanging weight, plus $35 butcher fee & $80 smoking fee. There is a $100 non refundable deposit per half to secure your pig. Contact us for a more detailed contract for bulk orders.
**if the inventory in bulk orders states out of stock for whole/half hogs please email westviewfarm813@gmail.com to check availability or be placed on an interested list**